Summary:
In a report that was 4 hours "late", China reported an additional 409 coronavirus cases across the entire nation, and 150 additional deaths as of February 23 compared to 648 additional cases and 97 deaths on February 22; this brought total China cases to 77150 and total deaths 259
China's Hubei province said it has 398 New Coronavirus Cases As Of Feb 23 and 149 New Coronavirus Deaths.
South Korea raised its national threat level to "red alert" for the first time since the H1N1 swine flu outbreak in 2009. The total number of confirmed cases in the country reached 763, a jump of 161 overnight, and a 25-fold increase in the past week.
The Italian government said it has 152 confirmed cases, up from three in a matter of days. Three people have died. Authorities have locked down about a dozen small towns and canceled events across the north, including Venice's Carnival.
Iran has confirmed eight deaths related to the coronavirus, the most outside of China, media reported Sunday. South Korea confirmed its seventh death.
4 more cases confirmed in UK
200 Israelis quarantined
Japan confirms more cases; Japanese Emperor expresses hope for Tokyo Games
Trump says US has everything 'under control' as he asks Congress for more money
EU's Gentiloni says he has 'full confidence' In Italian health officials
Turkey, Pakistan close borders with Iran as confirmed cases soar
Global Times says virus may not have originated at Hunan seafood market
Axios reports shortages of 150 essential drugs likely.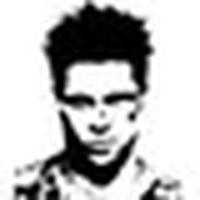 Zero Hedge
---
Update (2200ET): In a release that was about 4 hours late, China's Hubei province said it has 398 New Coronavirus Cases As Of Feb 23 and 149 New Coronavirus Deaths. Overall, China reported an additional 409 coronavirus cases across the entire nation, and 150 additional deaths as of February 23 vs. 648 additional cases and 97 deaths on February 22. This brings the total number of cases across China to 77,150, and total deaths to 2592.
None of these numbers are even remotely credible any more, and serve merely the propaganda purpose of giving the impression that Beijing is winning the war against the spread of the Coronavirus, when in reality nobody has any idea anymore what is going on on the ground in China, and is why workers refuse to show up to their place of business. Consider this: two days ago, WaPo reporters pointed to a clear case of manipulation where the authorities suppressed the true number of cases.
Authorities in Hubei province reported good news Thursday: There were only 349 new coronavirus cases the previous day, the lowest tally in weeks. The bad – and puzzling – news? Wuhan, the capital of Hubei, reported 615 new cases all by itself.
And then there was the Hunan doctor who said he had treated no less than 50 patients with coronavirus on the same day official data reported just one new case.
惊恐:湖南中医药大学第二附属医院的这位医生一天确诊50个冠状病毒患者,累到浑身湿透,没力气说话…… pic.twitter.com/kMh2Wl2Zl2

— 实话实说 (@jMcSVGx9oRuiEir) February 22, 2020
* * *
Update (2015 ET): The epidemic in South Korea is accelerating exponentially, with the country reporting 161 additional virus cases, bringing the total of 763, a 25-fold increase in cases in one week, along with two more deaths bringing the death toll there to seven. The Kospi is continuing its decline and is down 3.0% and approached the 2100 level on the downside.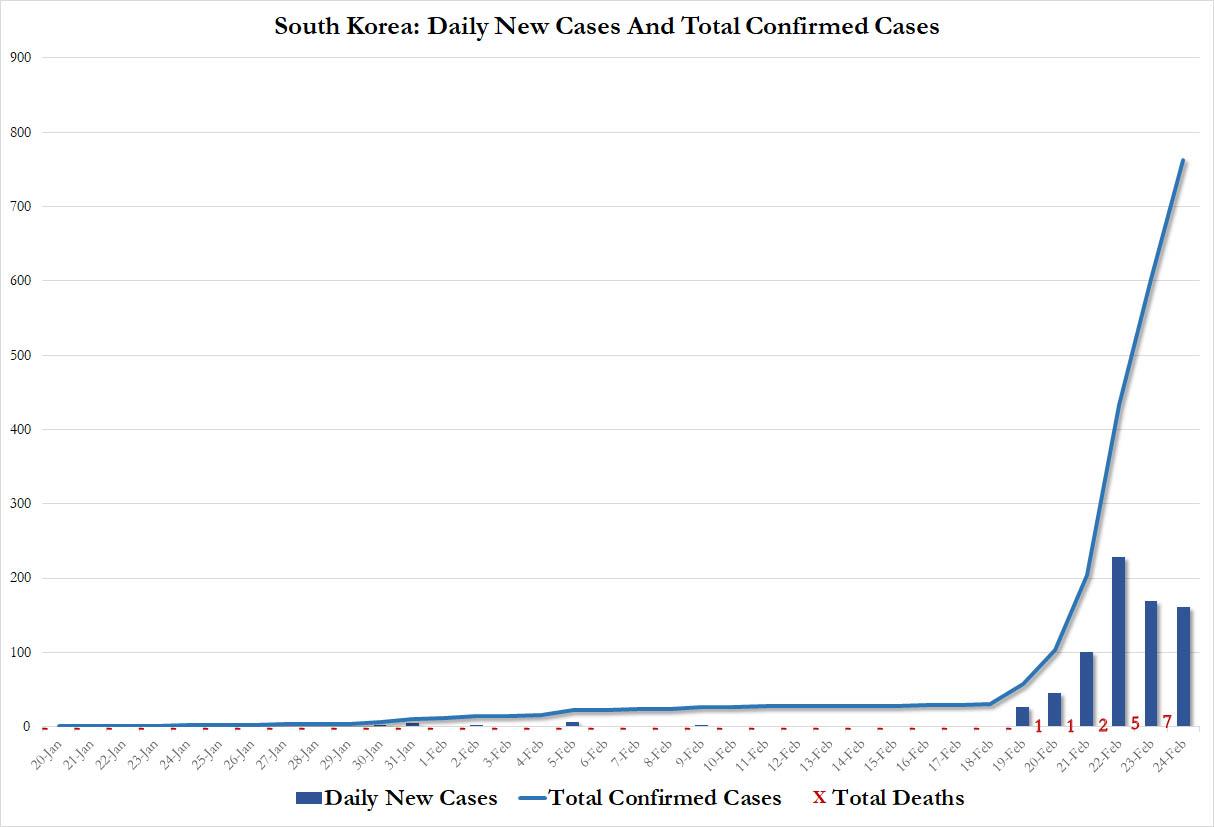 More ominously, the number of cases under inspection is nearly 10,000.
Earlier in the day, S.Korea elevated the virus alert level to "red", the highest in its four-tier system.
According to Yonhap, in escalating the virus alert level, President Moon said, "a few days from now is a watershed moment." In the first 30 days, S. Korea seemed to have been effectively combating the Covid-19. But within the past few days, the number of confirmed cases spiked, first linked to a religious sect and now starting to spread across the country. Yet, the city of Daegu and the Gyeongbuk area have a higher concentration of virus cases – representing 84% of the total number of infections – than other regions. Tied to this, the Korea Centers for Disease Control and Prevention (KCDC) estimates 329 cases, accounting for more than half of the total cases, to be related to the church services.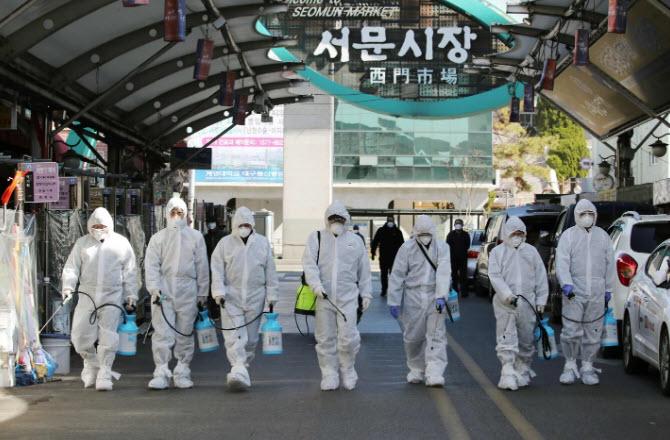 The following chart shows the geometric spread of new cases in several countries, including Italy, Japan, South Korea and Iran.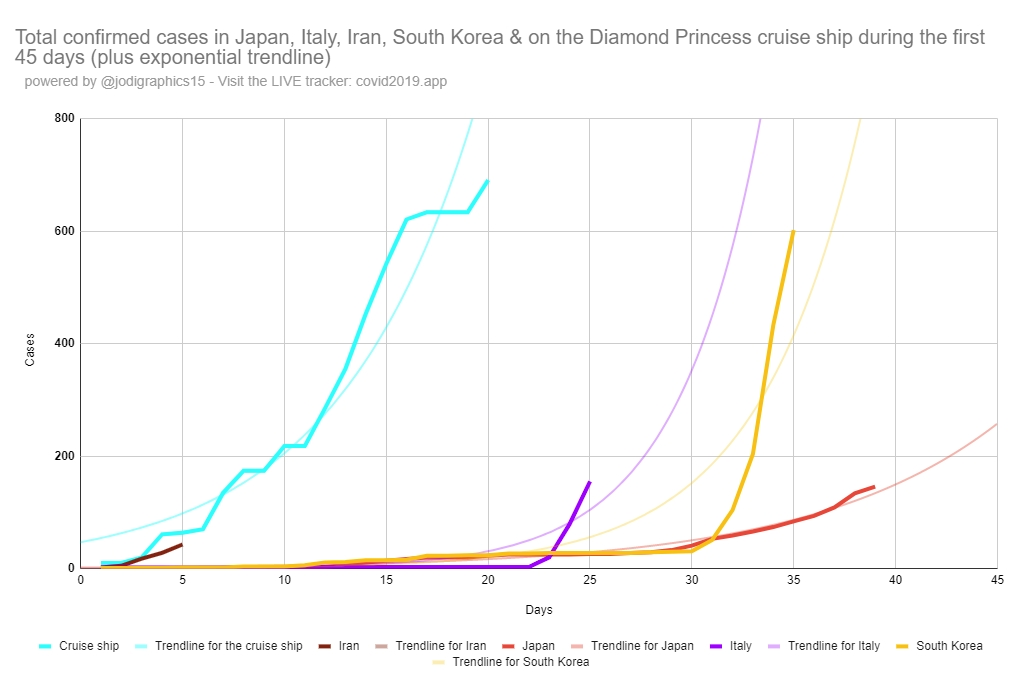 * * *
Update (1915ET): Austria's state railroad has halted at least three trains traveling from Italy via the Brenner Pass in response to a rash of virus cases in its southern neighbor, officials said.
Meanwhile, Hong Kong warned that the "Tsunami-like" event from the virus in Hong Kong is devastating businesses already hobbled by months of anti-government protests. As Bloomberg notes, unlike in the U.S. and rival Singapore, businesses in Hong Kong don't have recourse to any corporate rescue procedure. The lack of a proper legal framework for bankruptcy protection means companies are forced into liquidation, according to Johnson Kong, the president of the Hong Kong Institute of Certified Public Accountants.
* * *
Update (1820ET): White House trade adviser Peter Navarro says the crisis shows, "not surprisingly," that the U.S. has offshored too much of its supply chain. Navarro expressed confidence on Fox's Sunday Morning Futures, saying the "American economy is exceedingly strong and not particularly vulnerable to what happens in China." He emphasized his goal to bring more of the U.S. supply chain home. "A lot of it is in China, some of it is in India, some in Europe, but we've got to get that back on shore," he said.
* * *
Update (1615ET): The Italian government said it has 152 confirmed cases, up from three in a matter of days. Three people have died. Authorities have locked down about a dozen small towns and canceled events across the north, including Venice's Carnival. Italian authorities reported cases in three regions: 110 in Lombardy; 21 in Veneto and nine in Emilia Romagna. Of those, 25 are in intensive care.
* * *
Update (1415ET): The Epoch Times Jennifer Zeng reporting once again that the crematoriums in Wuhan are working overtime.
50-60 K people in hospitals in #Wuhan, out of 18 cremators at a crematorium, 3 were burned out due to overuse. Other 15 in operation 24/7. Many families died out.

希望之声 :武汉居民惊曝医院住5、6万人 18个火化炉烧坏3个 – https://go.shr.lc/37Tph5X 

希望之声 :武汉居民惊曝医院住5、6万人 18个火化炉烧坏3个

aboluowang.com
Still believe those official numbers?
* * *
Update (1345ET): G-20 finance ministers and central bankers who met in Riyadh yesterday for the latest G-20 summit said their countries stand ready to take action if the outbreak drags on the global economy. At this point, a massive hit to global GDP is looking inevitable.
Meanwhile, Bloomberg reports that Zhou Dewen, the chairman of the Small and Medium Business Development Association in the city of Wenzhou, believes the coronavirus outbreak is the worst public health crisis he's seen in his 40 years since China started its economic liberalization.
In fact, he said, it is "the most severe" of any crisis in the 40 years since China embarked on major economic reforms. He sees not a double but a "triple whammy," factoring in the economic slowdown the country was experiencing even before the trade conflict and the virus.
That sounds about right. And now we're finding patients can go 27 days without showing symptoms.
* * *
Update (1230ET):
The number of new coronavirus cases in Japan has risen to 135, while 57 new 'Diamond Princess' cases have been confirmed days after hundreds were released from a two-week quarantine. As we mentioned earlier, a third passenger has also died, according to Japan's NHK.
One of the cases, according to the Japan Times, is a woman who was reportedly let off the cruise ship as the quarantine ended. Of course, every expert in the world including the CDC warned Japan that this would happen since health officials didn't seem to have m much of an after-care plan. Alas, here we are.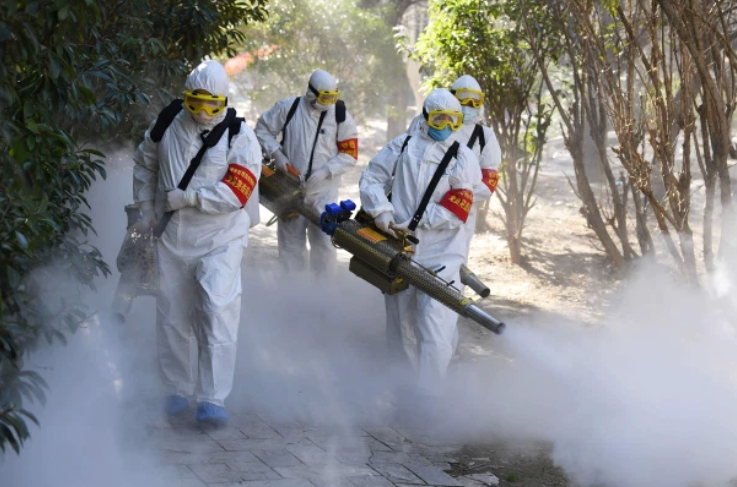 Three boys who have been confirmed to be infected with the virus are now Japan's youngest cases. They include a preschooler in Saitama and two brothers in a Hokkaido elementary school. It's the first time people under the age of 10 have caught the virus in Japan. While the younger boy had recently traveled to Wuhan with his father, authorities have no explanation for how the two brothers in Hokkaido became infected.
Emperor Naruhito cancelled a public event on Sunday, and also reportedly expressed some alarm about the virus and the Tokyo Olympics. Naruhito, who turned 60 on Sunday, ascended to the throne last spring after his father became the first Japanese emperor in 2 centuries to abdicate.
He said he was looking forward to this summer's games, adding that the '64 Tokyo games were a special memory in his childhood, Reuters reports.
"This new coronavirus is a concern. I would like to send my sympathies to those who are infected and their families," he said.

"At the same time, my thoughts are with the efforts of those who are treating them and working hard to prevent the spread of the infection. I hope their efforts will bear fruit soon."

Tokyo will host the Summer Olympics from July 24 for the second time, and Naruhito said the first Tokyo games, held in October 1964 when he was four years old, were one of the highlights of his childhood.
The Tokyo Olympics are the major barometer right now. If they get cancelled, then the world will know: This outbreak is out of control.
* * *
Update (1220ET): Let's check in with one country that we neglected to mention earlier in today's roundup of outbreak-related news.
Haaertz reports that 200 Israelis are under quarantine after nine Korean tourists tested positive for the virus following a return trip from Israel. Yesterday, Tel Aviv issued travel warnings for South Korea and Japan (they've also barred foreigners who've recently been to either country from entering Israel).
Those under quarantine include people who came into contact with the Koreans.
* * *
Update (1145ET):
Italian authorities have confirmed a third coronavirus-linked death in northern Italy. Officials confirmed that 50,000 remain under lockdown across 12 villages in the north.
As a reminder, Italy's first cases surfaced in early February, when a Chinese couple on vacation in Rome fell ill. Now, priests celebrating mass on Sunday across Italy have been ordered by the bishops to make a few changes to procedure, for safety's sake.
Bishops in several dioceses in northern Italy issued directives that holy water fonts be kept empty, that communion wafers be placed in the hands of the faithful and not directly into their mouths by priests celebrating Mass and that congregants refrain from shaking hands or exchanging kisses during the symbolic Sign of the Peace ritual.
* * *
Update (1130ET): The BBC reports that four of the 32 British passengers aboard the 'Diamond Princess' cruise ship that have been taken to the quarantine at Arrowe Park have tested positive for the virus, the UK's Chief Medical Officer said.
This brings the UK's total case number to 13.
* * *
Bernie Sanders has won the Nevada caucus, and coronavirus outbreaks are taking root in a handful of countries outside China, threatening a genuine pandemic and threatening to pop the market's dismissive bubble by proving unequivocally that this is not 'just another flu'.
We're starting our Sunday roundup with South Korea which, along with Italy and Japan, is one of a handful of countries outside China that is genuinely in crisis. On Sunday, the South Korean government raised the national threat level to "red alert", its highest threat level (like, North Korean troops on the move to Seoul-level) after 169 new cases were confirmed on Sunday, raising the national toll total to 602.
South Korean President Moon Jae-in warned on Sunday that the outbreak had reached a "critical watershed" moment, and that "the next few days will be a very important critical moment." He then asked health authorities to take "unprecedented, powerful" steps to contain the virus – and it appears they're already starting to do just that, as the FT reports.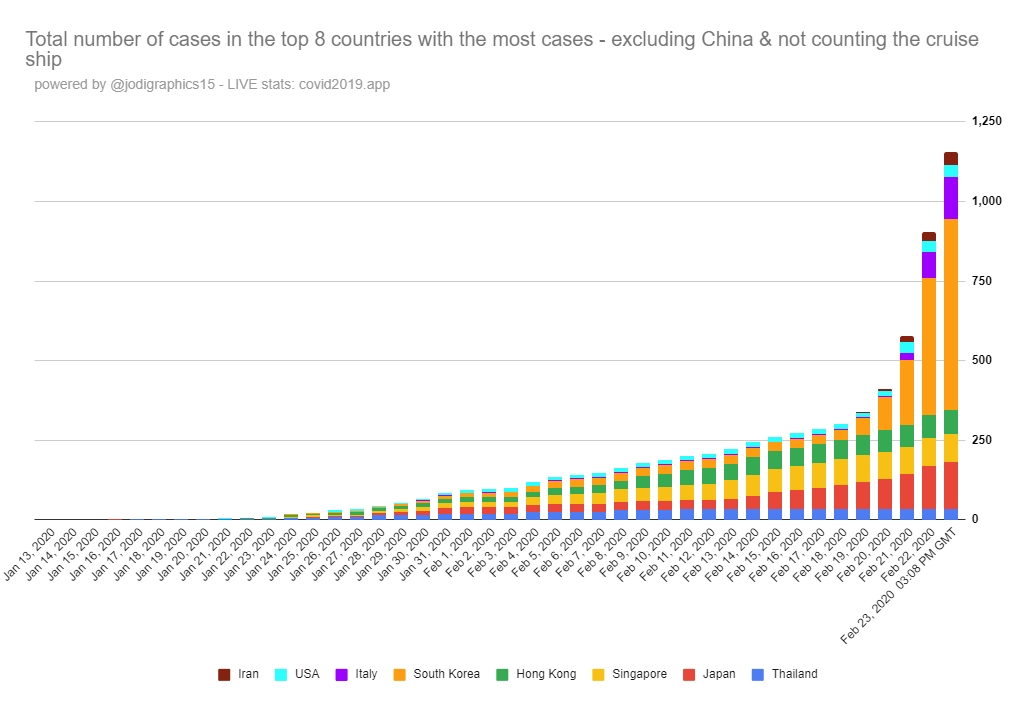 As one can see from this chart, the bulk of new cases confirmed over the weekend have been in the ex-China, ex-Diamond Princess category: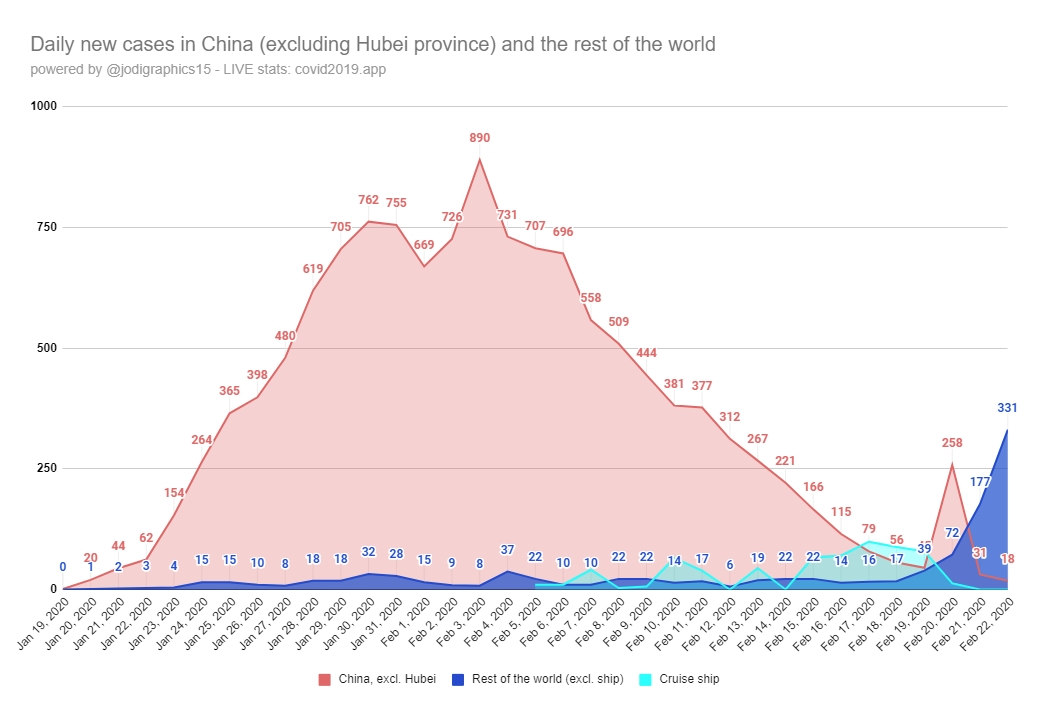 The Italian government is taking similar steps after confirming 133 cases, up from just three less than 72 hours ago. In that time, Italy has become host to the largest coronavirus outbreak outside Asia.
As Rome scrambles to contain the outbreak, authorities on Sunday banned all public gatherings, including Venice's famed carnival celebrations that honor the beginning of Lent. The last two days of the carnival have been cancelled as fashion week in Milan was also cancelled, forcing the cancellation of the famed Giorgio Armani show, which had been scheduled for Sunday afternoon.
Carnivale drew tens of thousands of revelers to the region which unfortunately is home to one of several clusters of outbreaks in Northern Italy.
While Italy's impoverished south has so far done little to prepare for the outbreak, in the north, museums, schools, universities and other public venues will be closed in Venice, as well as the rest of the Veneto region, through March 1.
According to ABC, three patients in Venice have tested positive for the COVID-19 virus, all of them in their late 80s and who are hospitalized in critical condition.
Most of Italy's cases are clustered in the north, where the most extreme lockdowns are being implemented. 25 cases have been isolated in Veneto, and the rest in Lombardy, with authorities still unable to track down the source of the virus. The first case was discovered last week when an Italian man in Codogno in his late 30s became seriously ill.
In Turin, the biggest and most economically vital city of the Piedmont region, three cases have now been diagnosed, and a family of three are being tested, according to authorities.
"The health officials haven't been yet able to pinpoint Patient Zero,"Angelo Borrelli, head of the national Civil Protection agency, told reporters in Rome.
Initially, authorities believed this man was infected by an Italian friend with whom he had recently dined, and who also had just returned from Shanghai.  When the friend tested negative for the virus, attention turned to several Chinese who live in town and who frequent the same restaurant. Regional Gov. Attilio Fontana said they tested negative, too.
And they're still not sure if he's 'patient zero'.
Across Italy, millions of Italians are preparing to be on lockdown for weeks, as many are hoarding essential supplies.
If legitimate, some signs of panic buying in Milan's supermarkets. And new travel attire too! #COVID19italia https://twitter.com/stef_barba/status/1231606551447777280 …

Live from Milan! #coronavirusitalla #Coronavirus
#COVID19italia
With 90 confirmed cases in Lombardy, the region has closed schools and universities, sporting events, other public events – and even catholic mass.
More bad news out of Hubei followed on Sunday, as Wuhan's Union Jiangbei Hospital confirmed the death of a 29-year-old doctor.  That's the second death of a young doctor in Hubei in a matter of days (another doctor died late last week). Their deaths have stirred up memories of Dr. Li, a martyr of the virus and symbol of Beijing's missteps.
As we noted last night, Hubei reported ~600 new cases on Saturday but nobody really believes the Chinese numbers anymore.
As Beijing tries to convince the world and its population that everything is under control, European Commission finance chief Paolo Gentiloni said the EU recently delivered 25 tonnes of protective equipment to China to help it contain the outbreak.
Looking inward, Gentiloni warned there is "no need to panic" about the outbreak in Italy, even though 2 people have died and more than 100 have been confirmed to be infected. "The EU has full confidence in the Italian authorities and the decisions they are taking," he said.
"We share concern for possible contagion, but there is no need to panic."
We suspect he will soon eat those words.
As the Trump administration confronts the unavoidable reality that it badly miscalculated by bringing those 14 sick passengers on the evacuation flight with ~300 seemingly healthy Americans from the Diamond Princess, Japanese officials confirmed on Sunday the third death among the ~2,600 passengers who traveled on the ship (along with another 1,000+ crew).
The 'Diamond Princes' remains the largest outbreak outside mainland China – but South Korea has probably already surpassed it, health authorities just haven't been able to test sick patients fast enough.
Meanwhile, President Trump assured the public that the virus is "under control" in the US just as he reportedly asked Congress to authorize federal funds to combat the virus as the CDC warns only three states are truly prepared. This after 25 Senate Dems sent him a letter demanding that he act – a superficial political ploy – some are worried that the $1 billion Trump is asking for is 'too small'. Seems to us that it makes sense to start small, then increase the ask as the situation evolves.
Elsewhere in the US, reports on Sunday claimed 325 People in Michigan were being monitored, all of whom had recently been to mainland China, according to local health authorities.
Nearly all of South Korea's coronavirus cases have been linked to two clusters at a church in southern city of Daegu and a nearby hospital in Cheongdo County – though cases have popped up seemingly without explanation, a phenomenon that is unnerving health officials around the world (Japan has faced a similar problem).
Yonhap reports scenes familiar to those who watched Wuhan's initial virus response: Exhausted health-care workers sleeping on benches outside hospitals.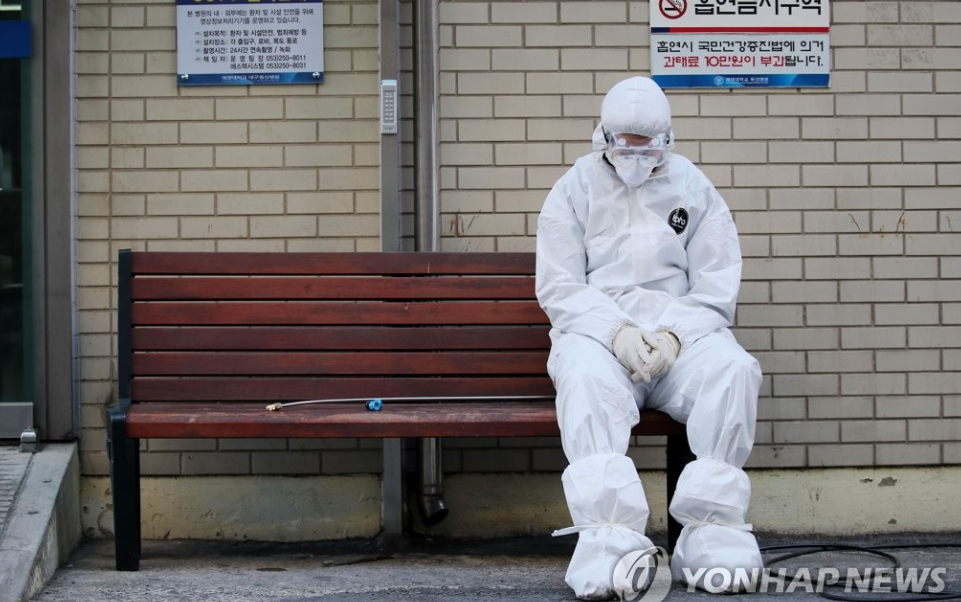 The South Korean government has declared 'special management zones' in both areas – a kind of voluntary lockdown order. From what observers can tell, it seems to be working, because Daegu's streets are abandoned, according to seemingly every report.
As the public searches for somebody to blame for the outbreak, the public fury appears to be pointed at the cult-like church where a 'super-spreader member who thought she just had a bad cold infected dozens of others, kicking of the outbreak in earnest.
Rumors and reports are circulating claiming the church isn't cooperating with the South Korean government.
Shincheonji cult is the epicenter of the breakout in Korea. The church is not cooperating and is not giving the list of members who were in Daegu.

9,336 members were tested and 1,261 see suspected if carrying the virus. This cult needs to be shutdown.https://news.v.daum.net/v/20200222104226282 …

[속보] 신천지 대구교회 9천336명 조사 완료..1천261명 "증상 의심"

(끝) [이 시각 많이 본 기사] <저작권자(c) 연합뉴스, 무단 전재-재배포 금지>

news.v.daum.net
But nowhere outside of Hubei is the outbreak worse than in Iran.
The country's utter lack of health-care resources combined with a bitter and oppressive regime already struggling with an US-manufactured economic crisis and a leadership that just accidentally killed ~200 innocent people, including dozens of students, has left it completely vulnerable.
Alarmed by their neighbors' outbreak, Turkey and Pakistan have closed their borders with Iran in an effort to stop the spread.
In just a matter of days, the death toll in Iran has climbed to 8 on Sunday. Assuming a mortality rate of 2%, that would imply Iran had ~400 cases one month ago when these patients were likely infected. That means there could be thousands of cases roaming around the country already. The biggest clusters so far have been reported in Qoms and in Tehran, the capital. In response, all schools in Tehran have been shuttered until further notice, and the government is telling citizens to avoid any gatherings or leaving their homes at all, if possible.
As medical workers literally throw everything they have at the virus, using AIDS drugs that have been found to be effective as well as therapies that work on flu patients, Axios reports that the global outbreak could soon cause shortages of 150 prescription drugs.
Before we go, we'd like to point out one interesting piece that we found in the Global Times – literally the most unlikeliest of places. As Beijing begins to push a narrative blaming the US for the outbreak (we know, we know), Chinese propaganda is already sowing the seeds of doubt. The virus didn't originate in the Hunan seafood market where an illegal wildlife trade helped it pass from bats or snakes to humans. No, it was 'introduced' to workers at the market via human-to-human transmission via an unknown third party.
This according to Chinese "researchers".

So much for Mike Bloomberg's insistence that nothing can stop the inexorable march of globalization.
In 2016 when we started the populist revolution against globalism many people didn't even know what that actually meant

China is now unintentionally revealing the dirty truth of globalism to a massive audience
We'll see about that.