---
An MP has criticised the state government's bill for abortion laws, which allows terminations on request up to 22 weeks, at a pro-life rally outside Parliament on Saturday.
LNP member for the south-west Brisbane seat of Moggill and opposition spokesman for communities Dr Christian Rowan claimed the parliamentary committee process was flawed and the Queensland law reform commission was not impartial to its assessment and recommendations.
"To decriminalise and remove termination of pregnancy from the criminal code… is an abdication of responsibility of any government to the welfare of its citizens and future generations," he said.
"This legislation ignores the rights of the unborn, is not in the true interests of women's health and the legislation does not afford adequate conscientious objection rights to both clinical and non-clinical staff.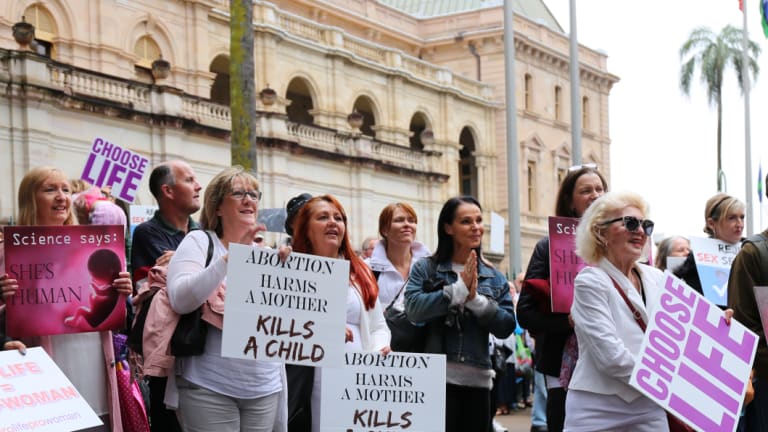 "Important issues including mandatory counselling, cooling off periods and ensuring domestic violence coercion has been properly assessed for, have not been explicitly addressed within the legislation."
Organisers of the rally said the crowd numbers were significantly smaller than the last rally, receiving 2500 people but were please with the turn out considering the wet weather.
Police also noted the drop in numbers since the last event but said there were about 600 people who attended on Saturday.
Former girlfriend of ex-NRL player Tim Simona, Jaya Taki also spoke out at the rally with an emotional speech and said Mr Simona had forced her to have an abortion after she was pregnant while they were still together.
"I was coerced into abortion through emotional and psychological blackmail," she said.
"I had begged him to talk things through with me and to support me in keeping the baby but I was told things like how could you ruin my life like this?
"Why would you bring this child into this world when it was unwanted by the father? And this child will haunt me."
Fighting through tears, Ms Taki said she was stunned at the "heartlessness of his reaction".
"I thought of having a baby, as I always say unplanned but not unwanted," she said.
Ms Taki said she regretted the decision to have an abortion but felt she had no support.
"I (had) heard that there was a possibility that if the counsellor at the clinic found you unfit for abortion, you could not have one so I thought it was a safeguard," she said.
"With her experience and her expertise in the field, (I thought) she would see this was not my decision and would turn me away but I was very wrong."
Ms Taki said the counselling session lasted minutes.
"She asked why I wanted an abortion and I replied because he said it was too early in our relationship," she said.
"She said well that's a good reason to have one.
"I was the only one fighting for this baby and when an expert was so casual about it all, I was very deflated, I felt defeated and I actually thought I was being dramatic."
Ms Taki said when she was pregnant a second time, she had her child, a beautiful daughter.
"She taught me to grow up and gave me incredible…choosing life positively changed mine, ending life almost ended mine.
"We can raise human beings who better this world."
The government's bill will be debated in the Queensland Parliament next week and would allow terminations on request up to 22 weeks, create safe access zones and a requirement for doctors who conscientiously object to refer patients to another medical professional.
Doctors would need to consult with a second practitioner before deciding if an abortion should be performed after 22 weeks.
PLEASE PRAY AND LIFT UP THIS IMPORTANT ISSUE BEFORE THE LORD